bLAh.BlaH.WSJournal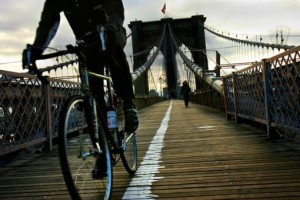 The conversation is bubbling.  Read this article about cycling in New York City (The City's Misunderstood Cyclists) published in the Wall Street Journal (March 4, 2011)
An Excerpt: Outside of this city—and many places inside the city—it's still very risky to ride a bike. Cyclists remain afterthoughts in the planning process. Parents don't dream of letting their kids ride on the street. A lot of adults are too scared to even try.
This is why Tim Johnson is riding into New York this weekend. Johnson, 33, is an unfamiliar name to most sports fans, but to hardcore cyclists, he's something of a cult hero, a six-time U.S. champion of cyclocross, a muddy racing genre that's an exhilarating mix between mountain biking and skinny-tire stuff found in the Tour de France.
Saturday night, Johnson and a group of other cyclists are riding into the city amid a 550-mile trip between Boston and Washington D.C, where the National Bike Summit occurs next week. The ride is designed to raise awareness and funds for Bikes Belong, an organization that seeks to make roadways safer and get more people on bikes.
Read the full article at the WSJ.
Posted: March 6th, 2011 under Advocacy, News Articles.

Write a comment
You need to login to post comments!