CicLAvia.April.10th.2011:Los Angeles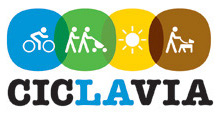 Los Angeles' second CicLAvia will be Sunday April 10th 2011 from 10am-3pm.
Los Angeles closes a number of streets so crowds of riders can pedal their bikes around the city free of car traffic.
For more information visit the CicLAvia Wedsite.
Posted: April 9th, 2011 under Advocacy, Features.

Write a comment
You need to login to post comments!