pooD.fArk.sÁbados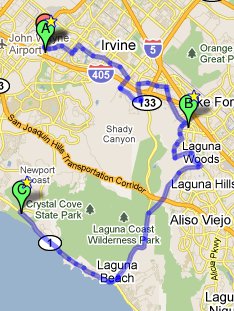 The ol'Food.Park Ride:
Every sábado from the Coffee Bean & Tea Leaf in Irvine, the ride departs @ 8:30.
Long Beach notables meet at PCH & Warner (Jack n'Box) and depart at 7:15 to arrive at the Coffee Bean in time for coffee and pastries before the ride starts.  Click the link to the map below; "Point of Interest" A marks the start of the ride and shows the exact location.
A: Start, B: Tesla Climb (Big Ring), C: Newport Coast (Long Beach Crew continues north Home).
This ride has been a Southern California staple for eons of time.  Some say it was started by the same guys responsible for Como Street.
For a detailed map that shows where the ride starts and the route, including directions,  visit JoTMaps.com and search for Food Park or click the link below.
CLick HERE for to open the map and ride details from JoTMaps.com:
http://www.jotmaps.com/jots/show_route.cfm?Route_ID=514
Posted: April 5th, 2011 under Features, Local Rides.

Write a comment
You need to login to post comments!